1688.com is simply the largest go-to wholesale and sourcing website in China (one of the most popular wholesale websites for the Chinese people) and mainly for wholesales and manufacturing. All suppliers need to get Government business licenses for them to be able to sell their products at 1688.com. All suppliers will also need to pay an annual membership fee of 6888 CNY to express their level of commitment and seriousness for partnership. This website is legit and the sellers are real, so these sellers are real and not scammers.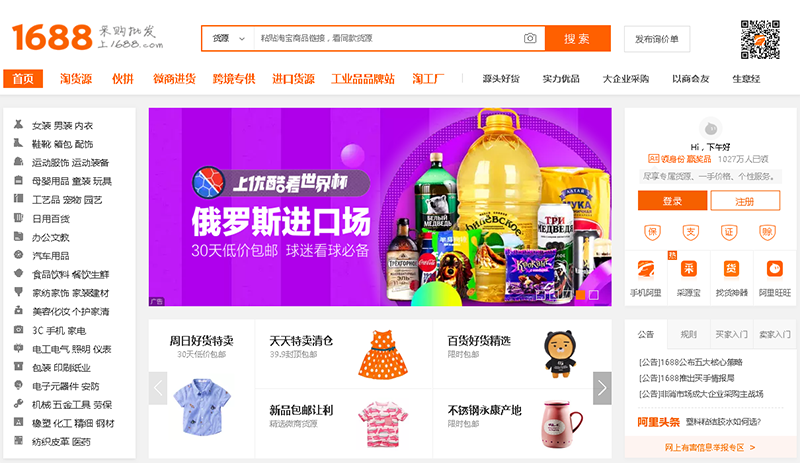 Want to know more about 1688.com?
Facts about 1688.com
1. What is 1688.com?
I'm sure every businessman knows about Alibaba – a very famous company in the world. 1688.com is a subsidiary of Alibaba in China.
1688. com is only for China's domestic market (Only Chinese language now) and mainly in B2B, B2C, wholesale and manufacturing of products. Many Chinese businessmen use 1688.com to find products and other businesses are also catching up to the relatively fair prices for good products. More than 80% of the businesses that we trade and interact with our factories and about 20% are trading companies. Have a look around. You will definitely find something that interests you here.
2. What is the difference between 1688.com and Alibaba.com?
The difference between the two is that 1688 is mainly for the domestic market and Alibaba is mainly for international business trade.
1688.com only has Chinese language, only for the Chinese market.
Alibaba.com is an international platform and can be read in many different languages worldwide. There are Spanish, German, French, Italian, Russian, Korean, Japanese, Thai, Turkish, Vietnamese,Portuguese, Arabic, Hindi, Indonesian, Dutch, and Hebrew languages.
3. Why do Chinese people like to buy products on 1688.com?
1688.com is a well-known website and at the moment, is the largest wholesale website in China. The Chinese people purchase products from us due to our relatively low prices. Many trading companies also to buy products through 1688.com and sell them worldwide. There are currently over 50,000 legitimate sellers on 1688.com. You will always find something you need on our website.
4. How do I communicate with the suppliers of 1688.com?
Most of our suppliers speak Chinese as it is more of a Chinese business and most of our customers are Chinese. You will need to have an agent with you who can act as your translator or take some quick Chinese lessons for you to order from the business directly. It's better to find an agent to help you to buy the products, and then send the goods to your address. We are your Agent in China. You can contact us directly.
5. How do I pay suppliers on 1688.com?
We have various payment methods that you can use. Whichever suits you so that you can get the products you wish to buy. Here is a list of the payment methods.
1st method: Pay through AliPay.
2nd method: Pay through Wechat.
3rd method: Pay through your personal bank account.
4th method: Pay through company bank account.
Tips: The suppliers accept RenMinBi (RMB or CNY) only. We don't accept US dollar.
The buyers must have import and export licenses if the supplier's bank account takes US dollars. You need to have an agent to help you with the payment if you want to pay the dollars. We can accept US dollars and then pay in renminbi (RMB) currency to your suppliers directly. We also accept bank transfer (T/T), Western Union or PayPal.
6. Do 1688.com suppliers speaker English?
Most suppliers don't speak English. But you can use Google Translator to translate English to Chinese and then send your translates to your suppliers.
7. How can I find a 1688.com Agent for my products?
We are your agents in China and have over 10 years of agency experience in this business. We purchase products in China and also do USD currency exchange to RMB, goods inspection before shipment, and ship to your address making us the best Chinese partner available in China. Working with us will save you time and cost. Our business only charges 3% service fee.
8. How can I translate 1688.com website to be English?
The best browser to use to access this website is Google Chrome browser as it can directly translate webpage content into your preferred language.
Click on this download link: https://www.google.com/chrome/ to download the Google Chrome browser.
The browser is simple to use. You just right click on click on the webpage and you will find the option to translate the website language. You can follow the steps below for more clarity.
1. Open 1688.com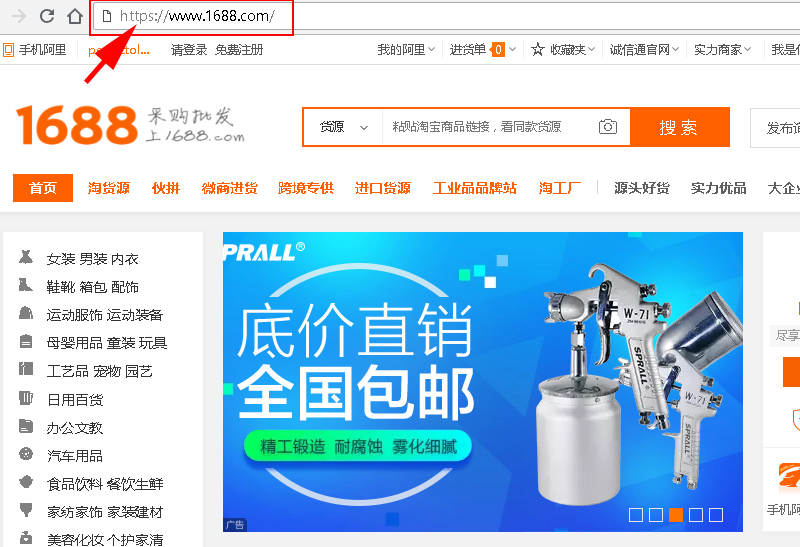 2. Click the right mouse button and select "Translate to English"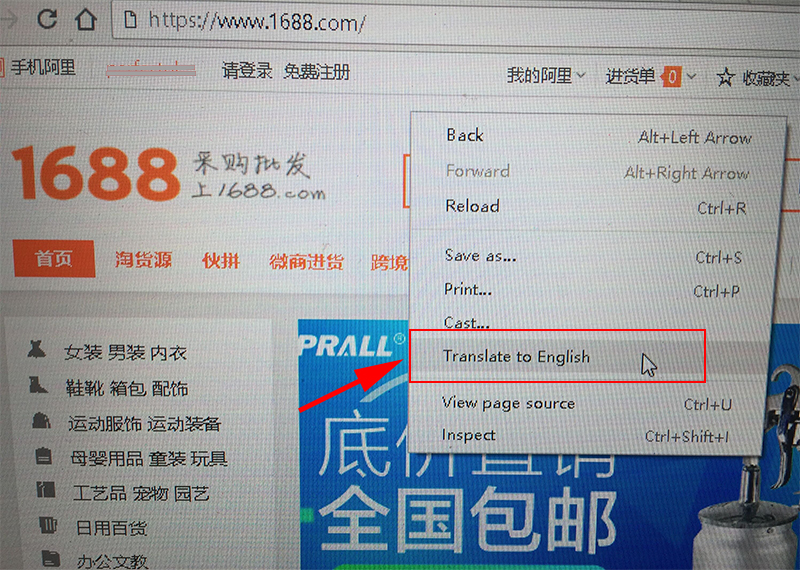 9. Are 1688.com of suppliers real or scammers?
All suppliers of the products on our website must get Government business licenses if to become 1688 sellers. Meaning that all the business and product sellers at 1688.com are real and genuine.
You can check the company's registration information on the seller's store. Details like date of incorporation, registered capital, company address, and company's business scope have been clearly displayed on the website.
How do I check the supplier's information?
To check the supplier's information, you can follow my steps as follows:
1. Open the vendor's home page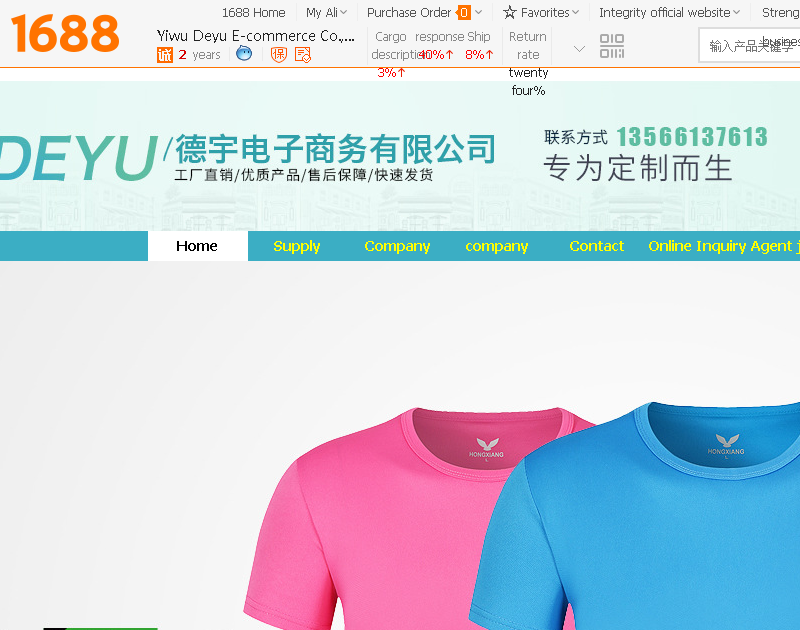 2. Click on "Company"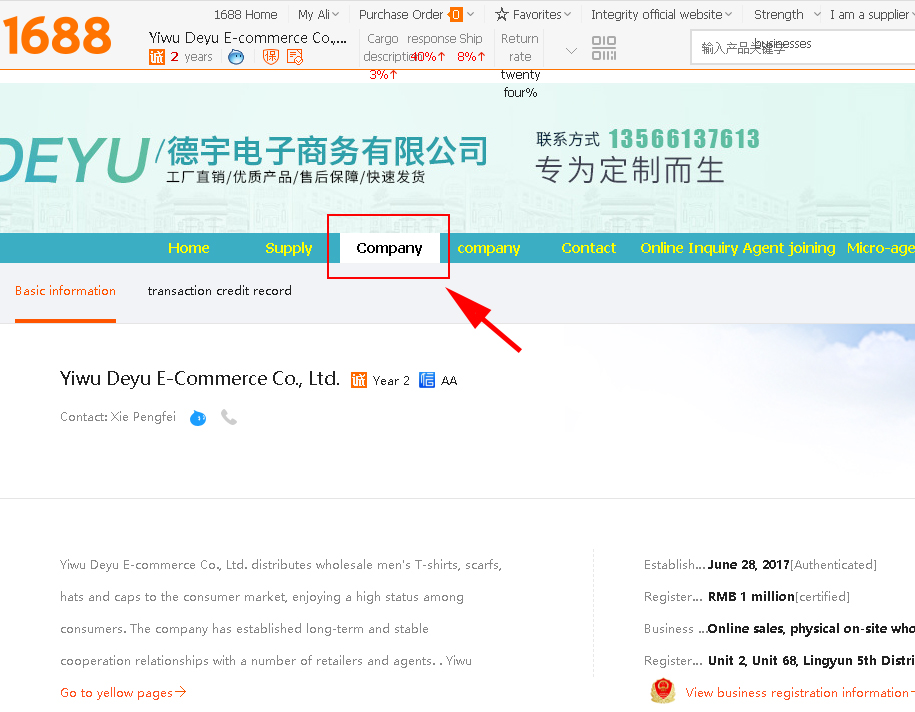 3. Click on "View Business Registration Information"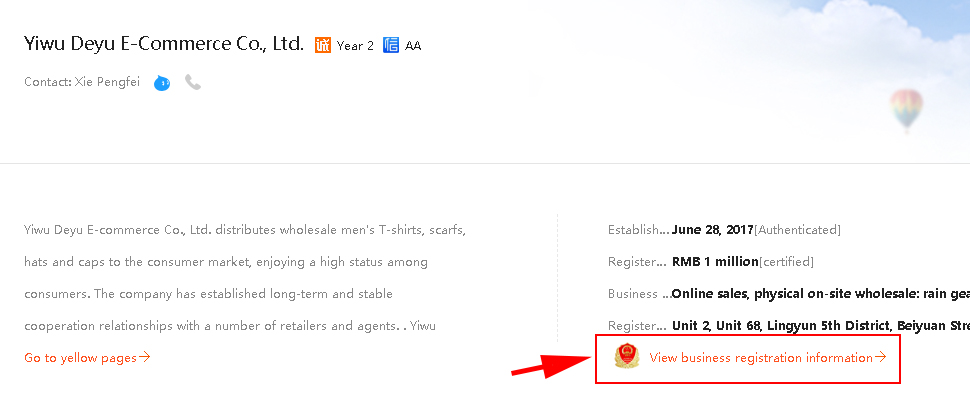 4. Check the information of seller's business registration.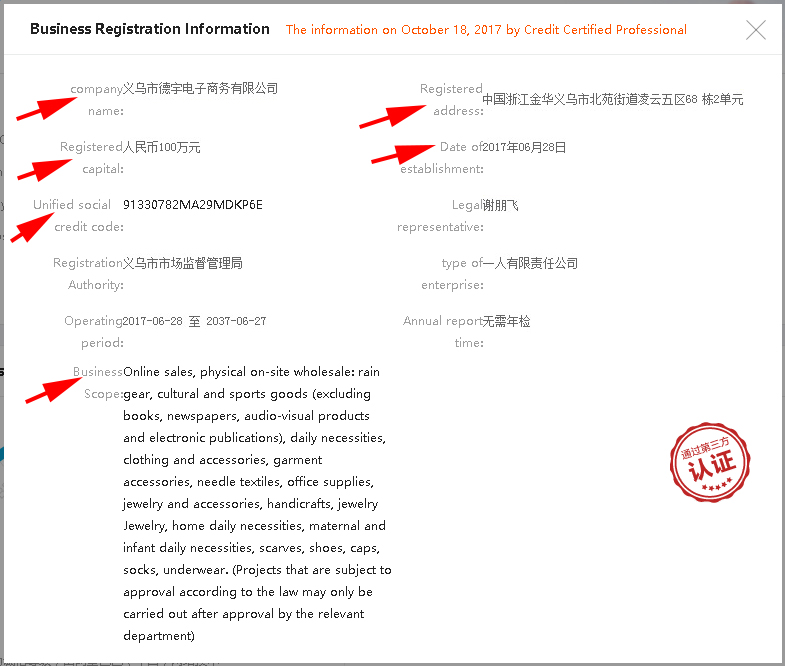 10. Can I pay US dollars to suppliers on 1688.com?
1688.com is mainly for Chinese people now and only accept the renminbi (CNY) through Union-pay and Alipay. But we also offer special services for customers with US currency. We can help you in China.
Conclusion
1688.com is a very good procurement platform that offers relatively low prices for their products. The main challenge is that is China-based and most, if not all, of the sellers only speak in the Chinese language. But otherwise, their services are pretty good.
You can use a sourcing agent or a Chinese friend to help you communicate with the suppliers in order to make and finalize sales.
We also offer free procurement services which you can try for free. Here are some benefits of our services:
Help you to get samples before max purchasing.
Checking your goods before shipment according to your requirements.
Bundle different products into one package for you.
Mark your labels on products if you request.
Offer foreign currency exchange services.
Handle your shipment in China to your address by sea, air or express… etc.